Mytikas is unparalleled variety for sports enthusiasts.
Climbing routes: the mountainous limestone mass available to the region, suitable for climbing are both sport routes and multiple paths ropes. In total there are 15 lanes of single rope and 2 multiple ropes (trand) with brand new plugs and boards. The degree of difficulty varies, with easy degree 5b trails and toughest grade 7c +, so the area is suitable for both beginners and more experienced climbers.
In addition there are opportunities for paragliding (parapente) in the fall.
Mountain refuges: At Panaitoliko, altitude 1,200, refuge of the Mountaineering Association of Agrinio. Info .: tel. (26410) 45 512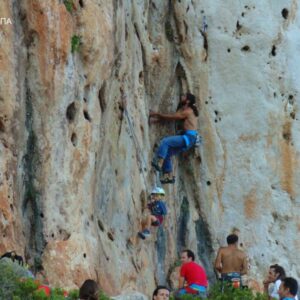 Diving: The beautiful underwater landscapes are an attraction for lovers of diving in the area, bays and beaches are ideal for diving and sight in the bottom of the Ionian compensate those who try.
Water Sports: You can enjoy kayaking and rafting on the Evinos.
Swimming: The beaches Mytikas Palaiomagaza, Alyzia, Paliovarka and Agrilia. Also, Elia and Marathaki.
Hiking: Beautiful trails and walking paths exist to the Byzantine church of Agia Paraskevi in ​​Kandila, a panorama wall in domed rock, located in a natural cave in Acarnanian Mountains!
Pilgrimage Tourism: The Church of St. Nicholas, the ruins of the St. Sophia church, three-aisled early Christian basilica, a short distance from Mytikas, and the chapel of St. Eleousa with beautiful views, attract religious tourism lovers and not only ..Castles and Archaeological Sites: Near Mytikas Kandilas in the area are the ruins of a Byzantine castle known as Castle Varnaka.
What to buy: roe and fish from the Messolonghi lagoons – Aitolikou, dairy products, wine, oil, honey, traditional sweets.
Local delicacies: Olives, olive oil, wine, raki, roe and fish (mullet, sea bream, sea bass, eel) from the Messolonghi lagoons – Aitolikou, Amvrakikos shrimp, smelt Trichonis, fish and seafood.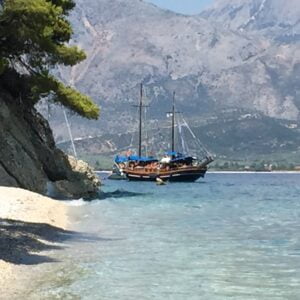 If you have a boat: You can tie in Paleros, Astakos, Messolongi and Naupaktos. Also in Vonitsa. From Mitika you can go by boat to the islands Kalamos and Kastos or ferry in Scorpio, Meganissi and Ithaca.
Walking route: road and only 40 minutes or so you can visit the beautiful island of Lefkada.